We're thrilled you want to become an EXAMTURF instructor and publish your first Mock Tests on our platform! At EXAMTURF, you can create mock tests based on your knowledge and teach millions of students preparing for competitive exams.
You just have to start with your passion and knowledge. Then choose a topic and create a test on the same. You get to create a mock test on what you want — even create tests in multiple domains like Finance, IT, Software development, and on competitive exams like CFA, FRM, PMI, UPSC, IIT JEE, country-wise exams and a lot more.

---
How to Become an Instructor on EXAMTURF?
How to Become an Instructor on EXAMTURF?
How will EXAMTURF help you?
EXAMTURF provides Free infrastructure and a platform for you to create tests on any topic. Furthermore, EXAMTURF provides an instructor dashboard to help you stay on track.

The following are the answers to the most frequently asked questions about creating mock tests on EXAMTURF and becoming an EXAMTURF instructor.
---
Who can use EXAMTURF?
Teachers/Educational Institutions/Coaching Institutes

Create free tests and homework quizzes with EXAMTURF to automatically grade your students. By updating it, you can reuse the tests/quizzes year after year. You can also give away free coupons to your students.

Freelance Trainers/Instructors

As a trainer or instructor specializing in a particular subject/domain/topic, you can create a test, publish it on EXAMTURF, enter your payment information, and earn money.

Employers/Corporate houses

Employers and corporate houses can create FREE tests on the EXAMTURF platform for conducting exams among their students/internal employees. They can easily export the results to keep track of them in the future.
---
How do I register as an EXAMTURF Instructor?
Follow these steps:
Go to www.EXAMTURF.com and click on "Teach at EXAMTURF" at the top-right.

Enter your Name, Email ID and Password, and then click Register. That's all!

---
How to access my Instructor view once I Log in to my EXAMTURF account?
Follow the steps below to gain access to the instructor view for your EXAMTURF account:
After logging into EXAMTURF, go to the top of the page and click on Instructor.
You will be directed to your Test Series page in the instructor view, where you can access all of the tests you've created as well as other instructor tools and resources (left corner).

---
How to log out of my EXAMTURF account?
Follow the steps below to gain access to the instructor view for your EXAMTURF account:
Hover your cursor over your Profile Image in the upper right corner of the instructor page.
Select Log Out.

---
How to complete my Profile on EXAMTURF?
Access your EXAMTURF account.
Select the dropdown menu near your profile image in the top-right corner.
Select My Profile.

Enter your Name and Email ID, then click Save.

Next, select Bio/Payout Settings.

Include a brief biography, a headline, and upload your profile image and social media links. Once done, save your work by clicking the Save button.

---
How to Become an Instructor on EXAMTURF?
How to Become an Instructor on EXAMTURF?
Where do I add my payment details?
Select Bio/Payout Settings.

Go to Payment Settings and choose your preferred Payout method. Make sure to include all of the necessary information.

---
How to enter the basic test information?
Follow the steps below to enter the basic information for your test.
Log in to your EXAMTURF account.
Choose the Test for which you want to enter the basic info.
On the left, select the Basic info section.
Fill in the test Title, Subtitle and Description.
Upload an image that is appropriate for your test.
Scroll down to the Basic info section and choose: Test Level, Test Category, Country, Test Sub-category and Keywords.
Click on Save once done.


---
Can I create a Test on any topic?
On EXAMTURF, you can create a test on any topic you want. Please see our main categories for more information on the topics on which you can easily create tests. All of the major categories are depicted in the image below. In addition, there are various sub-topics available under each main category.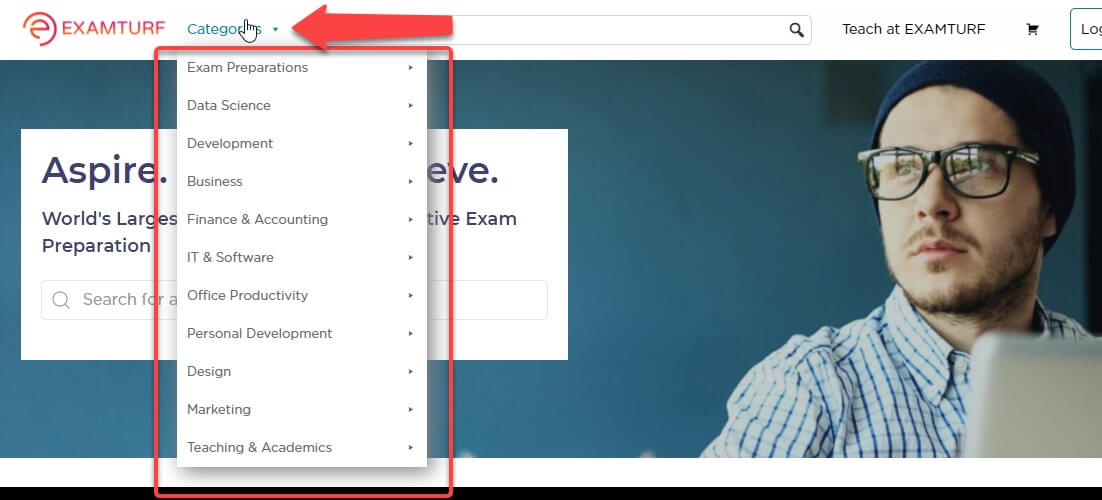 ---
Do I have to pay any fees to become an EXAMTURF instructor?
There is no cost to become an EXAMTURF instructor. In fact, Instructors are compensated for their sold tests on the EXAMTURF platform using a revenue share model. You can learn more about our revenue share model by reading the Instructor Terms.
---
What approval do I require to get started as an EXAMTURF instructor?
To get started, no approval is required. However, before an instructor can publish a test on the EXAMTURF marketplace, they must fill their profile and payment details.
To create paid tests, instructors must first set up a payment method for their account (detailed steps explained above).
---
Are there any requirements that my Mock Test or Exam Test must meet?
Yes. Each test must have at least one set of 20 questions. We also have an internal Quality Review Process that every test goes through to ensure that students have a great learning experience.
---
How will I get paid?
To receive payments, instructors can use PayPal, Google Pay, Paytm, Amazon Pay, and other similar services. Every month, you will be paid based on the number of tests purchased by students and the revenue share model.
---
What are the revenue sharing terms between instructors and EXAMTURF?
If a user purchases your test series, EXAMTURF will deduct any applicable Transaction Taxes, mobile platform fees, and administrative fees before calculating the Net Amount of the sale. As an instructor, you will receive a revenue share of 50% of the Net Amount after deducting any user refunds.
---
What are the refunds terms for instructors?
Users enrolled in your test series will have the right to receive a refund.
In such a case, EXAMTURF will not release any payment to the instructor for which a refund has been granted
If a user enrolled for a particular test requests a refund after the payment is already made to the instructor, EXAMTURF reserves the right to deduct the refund amount from the next payment of the instructor or recover the refunded amount from the instructor
---
Are there any important Terms and Conditions that Instructors must know?
Yes, it is recommended that instructors read the following:
---
Can instructors create coupons and give discounts to users?
Yes, absolutely! Instructors can create Discount Coupons to promote their tests (this feature is available in the instructor account). Creating coupons should, in fact, be an important promotional strategy for instructors.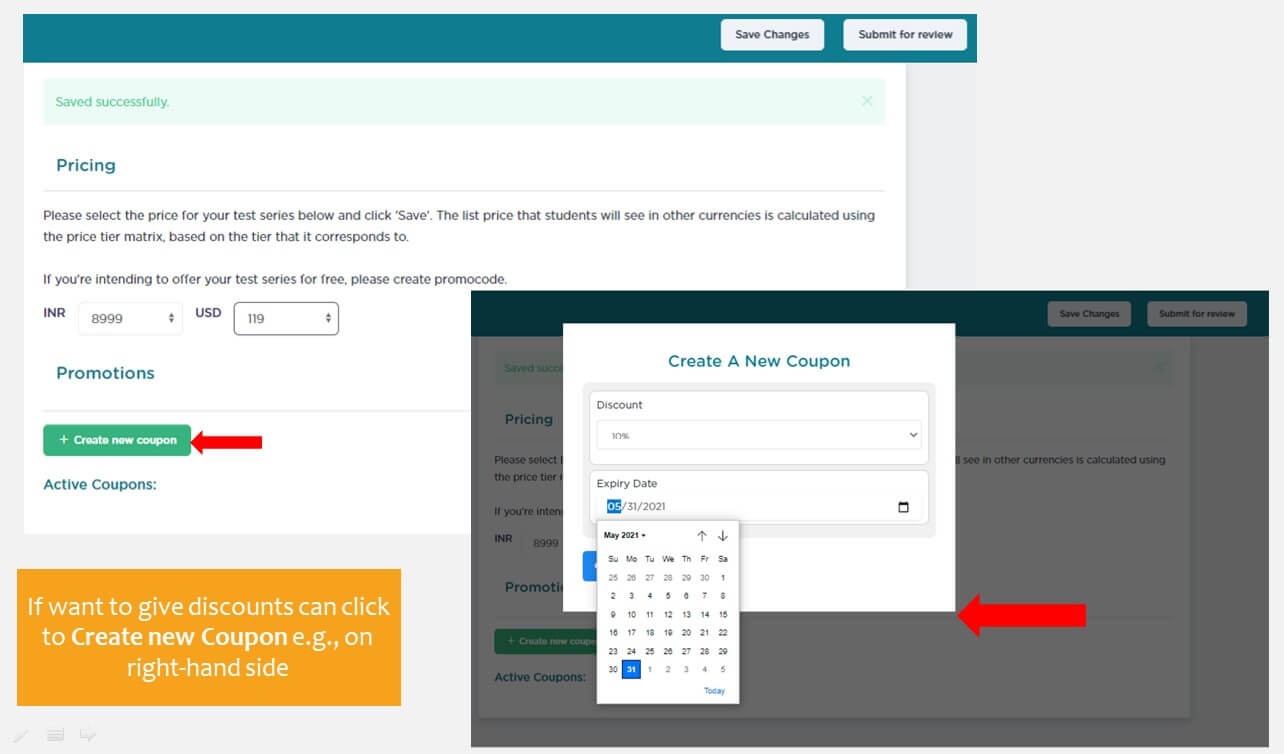 ---
Will EXAMTURF give any feedback to instructors before approving their test?
The EXAMTURF review team will provide you with test feedback a few days after you submit your test for review. If any fixes are required, the status for that particular test will be displayed as "Fixing", along with the comments, if any. You must complete all of the required fixes before your test can be approved for inclusion on the EXAMTURF platform.
You can access the comments given by the EXAMTURF review team by clicking on the applicable test. Once you've made the required changes, you can resubmit your test for review.
---
Can Teachers and Academic institutions use EXAMTURF to create free tests for their students?
Yes. EXAMTURF's test creation platform can be used as a simple online quiz/test maker that can be used by teachers and academic institutions to create tests and assess their students. EXAMTURF offers a FREE online test/quiz/mock paper creation platform to Teachers and educational institutes to enhance online learning.
---
How can Teachers and Academic institutions create Free Tests/Quizzes on EXAMTURF?
EXAMTURF's test creation platform can perform a variety of functions. It not only assists teachers, coaching classes, colleges, and academic institutions in conducting online MCQ-based tests/quizzes, but it also assists them in accurately grading the tests. You can do the following:
Create a Free Test
Easily distribute the test URL to your students
Collect and analyze results
---
Why should Teachers and Academic Institutions use EXAMTURF?
EXAMTURF provides more than just a platform for creating FREE tests and quizzes. Your instructor account includes powerful features such as:
Free Account Registration
Free Test Creation
Easy to use interface
Create unlimited tests and quizzes
Include unlimited questions in a test
Upload images, charts or graphs
Insert math equations
Add explanations to your questions
Manually adjust scores
Results automatically graded
Earn Money by Selling Your Tests
---
How can I create my test in record time with EXAMTURF?
Instructors can quickly create tests, add questions manually, move them around and publish the test in record time.
You can also bulk import questions from a CSV file or Excel file to save time when uploading.

---
How can Academic Institutions/Employers/Instructors distribute their tests?
Once your test has been approved and published on EXAMTURF, you can either choose to sell it by pricing it appropriately or provide it as a FREE test.
Once your test is published, EXAMTURF generates a unique URL for it. You can send this unique test URL to your students or employees in order for them to begin the test.
Your students/employees/users will have no technical difficulties because EXAMTURF tests work on desktops, tablets, and smartphones.
You can create a test and publish it for free on the EXAMTURF marketplace, as shown below:

You can create a test and sell it on the EXAMTURF marketplace for a set price, as shown below. You can also provide discount coupons to your prospective users/students.